Is Your Therapy

Effective

?
FIT (Feedback-Informed Treatment) tools reveal the effectiveness you provide
Quick video intro
Get a Free Trial
The

Gold

Standard

Outcome

Tracking

and

Reporting

System
…that improves counsellors and therapists performance…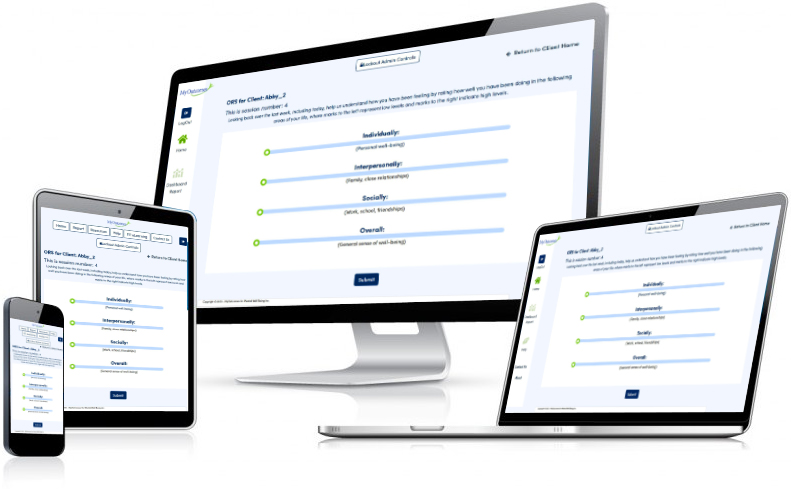 Feasible,

responsive,

and

advanced

outcome

reporting

platform
Session by session data collection and output reporting designed for diverse patient populations. Practitioner management becomes more transparent and efficient with user integration features and multilevel access for administrators, supervisors, clinicians and clients.
On-Demand

Training

for

Scalable

and

Sustainable

Implementation
Comprehensive, on-demand training designed to help therapists leverage the full capabilities of Feedback-Informed Treament (FIT). FIT eLearning is a new and accelerated way to learn and implement Feedback-Informed Treatment using Evidence-Based tool. Completion of the program can provide 12 CE Units.
Evidence-Based

Practice,

with

Practice-Based

Evidence
Our advanced behavioral algorithms go beyond simply measuring average change. Our powerful reporting capabilities deliver more accurate client outcome reports while our standardized outcome tracking tools provide real-time granular analysis of client improvement. User-friendly dashboards and intuitive consoles offer at-a-glance alerts and allow for comparisons of multiple clients at once.
MyOutcomes is trusted by

your colleagues
The Gold Standard Solution In Outcomes Measurement
Experience

the Difference
Easy to Use
Feedback surveys (ORS and SRS) can each be completed in less than a minute
Advanced options
We have experience integrating with EHRs and EMRs.
Scott Miller


Feedback-Informed Treatment
From the comfort of your own home, learn a new effective way to bring your therapy to the next level by soliciting from your clients usable and valuable feedback that will lead to improved outcomes.
FIT eLearning is an accelerated way to learn and implement Feedback-Informed Treatment. Based on the ground-breaking FIT Evidence-Based Practice, FIT eLearning is designed to help you gain capabilities and confidence regardless of your learning style.
Read more
Book a consultation
Outcomes Measurement Solutions Trusted by Leaders and Accrediting Bodies
MyOutcomes has helped me provide a higher quality of clinical service to clients in my private practice.
MyOutcomes has helped our therapy team improve outcomes by up to 28%. We are now an outcome-based clinic and excited about these improved outcomes.
The Resilient Mind Project
Get a Free Trial
Since using MyOucomes we have created a culture of Feedback-Informed Treatment that is inspiring a higher level of clinical excelence among our therapist.
The new science of professional development
Already an expirenced FIT practitioner? Find out if FIT Deliberate Practice is the next step for you.
Learn more
Download MyOutcomes 2018 benchmarking report
Powered by advanced behaviour algorithms, find out why top practitioners choose MyOutcomes® over alternatives.
Download Report
Record feedback and access it from any mobile device
MyOutcomes® Mobile is free and makes it easy for clients to share their feedback from a tablet or smartphone.
Learn more